| | |
| --- | --- |
| | |
it was ages ago when i last set my foot in shangri-la edsa mall and i was so happy to have visited the place last night. it's still the same sparkingly-clean-smells-nice-and-not-cro
wded mall i learned to love over the years. i especially am fond of their escalators because i can view the mall area in almost its entirety. i checked the whole place and realized that they already have new shops and new restos. of course, i got excited. speaking of new restos, i came across
Hula-Hula Seafood and Barbeque House
just right outside the mall's resto strip. i have been seeing reviews about this restaurant since january this year but i never got the chance to try it out until last night.
the place is a bit cramped which makes it hard for the wait staff to manuever themselves from one table to another. but then, i want to try something new so i gave Hula-Hula a chance. since it says Seafood and Barbeque House, i decided to try both. for the seafood, i ordered tuna belly.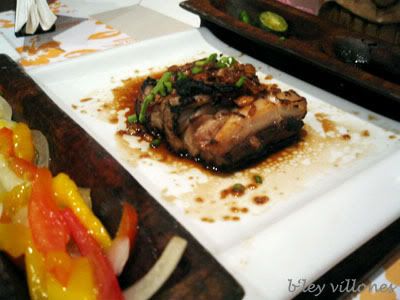 Tuna Belly- Php195.00
i was a bit disappointed because of the serving size. they should change its name to
bite-size tuna belly
. for the barbeque part, i ordered 2 sticks of big foot.
Big Foot- Php275.00
it's the longest pork barbeque i've ever seen. the pork is skewed on a 12-inch barbeque stick. as for bastings, i chose
manila smoke
and you also get to choose 2 sidings. i chose
potato salad
and
macaroni salad
. i also saw varieties of rice in the menu, so i ordered their crab fried rice.
Crab Fried Rice- Php115.00
all in all, the food is good! it's so good that i even forgot how cramped my table was with all the dishes i ordered and how small my dining space was. i especially love the taste of their tuna belly which was grilled just right. the manila smoke basting was also very flavorful and the pork is tender. as for the rice, it's surprisingly better than Blackbeard's Seafood Island's crab fried rice.
to add to everyone's dining experience, the wait staff- the
hula girls
and the
tiki boys
formed a straight line along the aisle and hula danced to the tune of a couple of Lilo and Stitch songs. it was so much fun watching them! i even saw our server danced and in fairness, malambot ang katawan nya.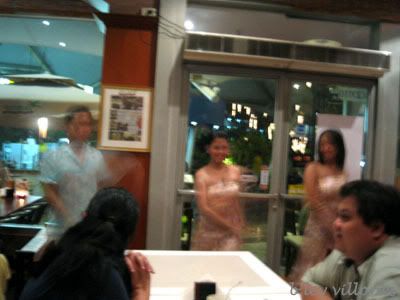 i must say that Hula-Hula Seafood and Barbeque House's good and friendly atmosphere, not to mention their delicious food compensate for their small space. eventhough it was raining last night, i came out of the resto with a sunny smile.
Hula-Hula Seafood and Barbeque House
1st Level, Shangri-la Plaza Mall
EDSA cor. Shaw Blvd.
Mandaluyong City
632.910.3218